"SAMVEDAN 2021" is a Grand Challenge based on the SONY SPRESENSE board conducted by IITM Pravartak Technologies Foundation in collaboration with Sony India Software Centre Pvt. Ltd. We think its a great platform to explore the embedded technology. The Spresense microcontroller board enables edge solutions with high computing ability and low power consumption. The registration ends on July 31. Fill this google form to submit your registration.
About the Grand Challenge,
We invite sensing solutions for problems of social relevance in Bharat, using the SPRESENSE board. The participants will be provided with one each of the three boards (Camera Board, Main Board, and Extension Board) as displayed below to demonstrate their ideas. However, the participants are free to use additional electronics that connect to the SPRESENSE board. Click here to view a premier video on the usage of the SPRESENSE board.
‍
‍
For clarifications, use this blog samvedan-2021.slack.com
Key points
1st prize of ₹100,000
2nd prizes of ₹50,000 each
3rd prizes of ₹25,000 each
200 days to create a world-class "Sensing" solution
Entrepreneurship (Startup) Opportunities for Winners
Steering Committee's decision is FINAL. Your feedback is important
Team of maximum size 3
Open to only Indian citizens residing in India
Timeline for SAMVEDAN 2021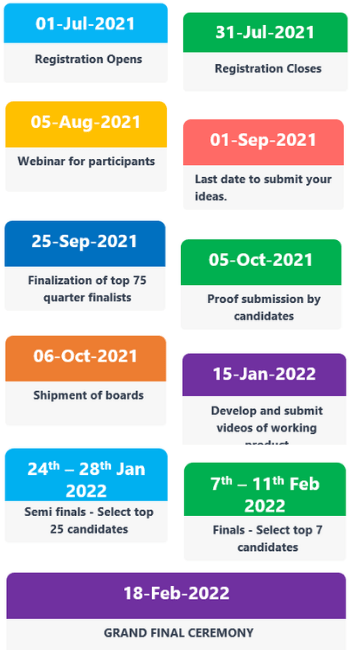 Check out the other key details here. Happy Coding!
Akshaya currently works at the RISE labs. Her favorite subjects are Web designing and Microprocessors. She loves learning about new things and writing about them!